Event box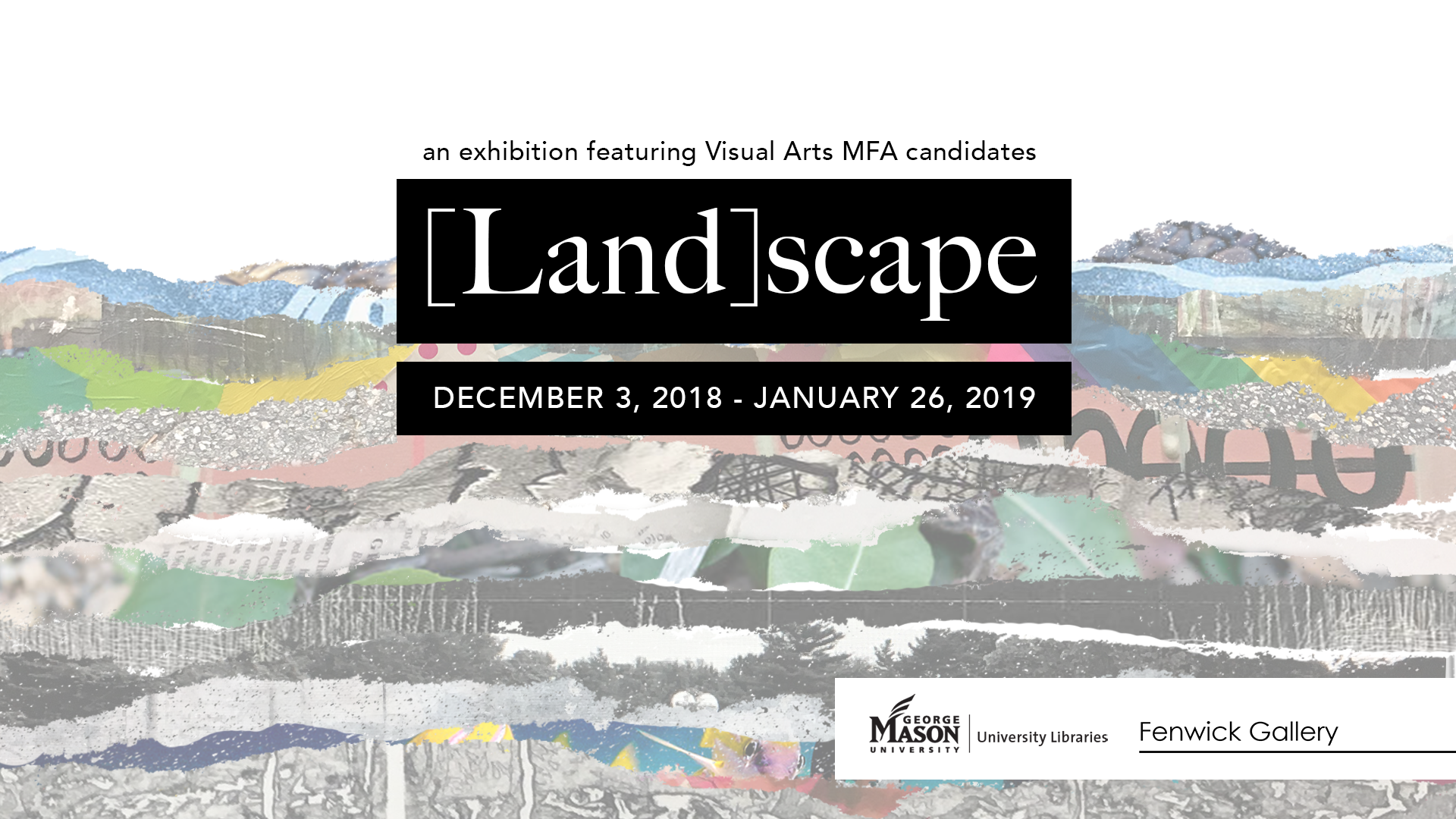 [Land]scape: Closing Reception, Performance, and Artists' Talk
Join us for the closing reception and artists' talk for [Land]scape, an exhibition of works by current MFA students in Mason's School of Art. [Land]scape is presented by Fenwick Gallery in partnership with ARTIFACT, a graduate student organization for MFA candidates in the GMU School of Art.
What is a landscape? A scenic countryside? A long-standing tradition in art history? The distant backdrop of our lives and memories? In the exhibition [Land]scape, artists ask us to engage the notion of landscape on multiple levels. Some pull imagery directly from observed physical, natural, and built surroundings to construct narratives, comment on social, political, and environmental issues, or use landscape as poetic metaphor. Others explore the unseen spaces we navigate: the mind, dreams, fears, desires, the space between people, between the past and present, between here and there. Featuring a range of painting, mixed media, printmaking, sculpture, and video works, the exhibition itself becomes a landscape revealing a strata of emerging art practices.
Participating artists include Jorge Bañales, Andrea Benge, Brigitte Caramanna, Danielle Dravenstadt, Kate Fitzpatrick, Emily Fussner, Kerrianne Hentges, Erica Hopkins, Strange Lens, Jennifer Lillis, Jayne Matricardi-Burke, Matt Nolan, Kevin Wallace, and Michael Walton.
Learn more about this exhibition at fenwickgallery.gmu.edu
Date:

Wednesday, January 23, 2019

Time:

5:00pm - 7:00pm

Campus:

Fairfax Campus

Categories:
Event Organizer
Stephanie Grimm
Whether you need help finding library resources or developing your research topic into a clearer idea, I'm here to help! You can also book a time to talk with me about Mason's artists' book collection or to discuss proposals or ideas for the Fenwick Gallery.
My office is located in 2212 Fenwick Library, 2nd floor.